The gaming case is a crucial part of your overall gaming system. The gaming case is the hard shell or tower in which all the gaming hardware is protectively contained, and where many of the cords are often stored. Its exterior can be adorned to make quite a statement, or downplayed to lure your competitors into a false sense of security.
In the following article we have reviewed several of the most popular and best-selling gaming cases currently on the market, including some of the pros and cons associated with each product. We have also included a Gaming Case Buying Guide, in which we will point out some of the most important factors and characteristics to look for and consider when buying one of these products.
Top Gaming PC Cases by Editors in 2022#
Best PC Gaming Cases for the Money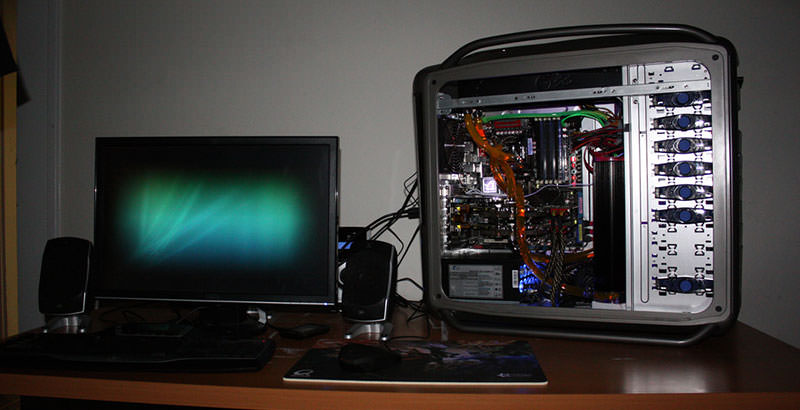 NZXT Source 530 Gaming Case-the Most Budget-Friendly Option - Link
With enough space to hook up nine fans, the budget-friendly and fairly roomy NZXT Source 530 Gaming Case is one of the best gaming cases for the money. It is certainly not the largest case out there, but at 20.1 inches by 9.2 inches by 20 inches it does offers ample space for some of the most widely-used gaming hardware. The case is equipped with just enough space between the motherboard and the back case panel to allow you to manage all your cables, keeping them out of the way from the gaming area. This space will also help improve airflow, and when combined with the up to 9 fans that can also fit inside this case, the improved space will keep your system just as cool as can be.
With the NZXT Source 530 Gaming Case you'll get 8 PCIE expansion slots and a 10 port fan hub that will help alleviate the clutter of multiple fan cables by routing them all to the rear of the case. This feature also provides a clutter-free front-case that is aesthetically pleasing. There are no LED lights on this case, save for the light on the back panel, but if your budget is low and you don't need the flashiest case in the industry, the NZXT Source 530 Gaming Case has just enough features for a great gaming experience.
Pros
Roomy. For the money, this case is very roomy, allowing it to accommodate even the largest hard drives and graphics cards.
Lots of airflow. The NZXT Source 530 Gaming Case has room for 9 fans and is roomy enough to provide lots of system-cooling airflow.
Many expansion slots. With 8 PCIE expansion slots, the NZXT Source 530 Gaming Case gives you plenty of ways to customize your system.
Cons
Plastic hard drive cases. The hard drive cases on the NZXT Source 530 Gaming Case are made of plastic and thus not very durable or protective.
No LED lights. The case does not come with light modulators that are often found on other (pricier) gaming cases.
No heat cover for the power supply. Because the NZXT Source 530 Gaming Case does not come with a heat cover for the power supply, this part will have to be purchased separately.
PhanteksEnthoo Pro Gaming Case-the Most Spacious Case on Our List - Link
Those looking for a lot of space in their PC tower will simply fall in love with the PhanteksEnthoo Pro Gaming Case. Adopting many of the features of its predecessor-the Primo Gaming Case-this case has many new and upgraded features. With the ability to house almost a dozen fans easily, it is one of the coolest towers for the money, and its spacious design provides lots of airflow where it is needed most. It is the perfect setup for anyone looking for a simple yet functional design that isn't too flashy.
The PhanteksEnthoo Pro Gaming Case is equipped with advanced support for water cooling, which can be installed in four places within the case, and purchasers can choose between side walls that are windowed or non-windowed. The motherboard frame is very rigid and stable, and the unit is equipped with multiple radiator supports, including one removable SSD bracket. On the downside, the case uses plastic for most of its support pieces-plastic that has been brushed to look like aluminum-but it still provides ample space for you to add almost anything you wish and still manage your cables neatly.
Pros
Easily accessible dust filters. To help keep your system as cool as possible, the PhanteksEnthoo Pro Gaming Case offers four easily accessible dust filters.
Can house 10-11 fans. With plenty of space, this gaming case has the space to add 10 or 11 fans.
Hinged covers. The PhanteksEnthoo Pro Gaming Case offers hinged covers for USB ports, audio jacks and reset button to prevent dust from getting inside the case.
Cons
Comes with only one SSD mounting bracket. Although there are two placement areas for SSD, the case is equipped with only one SSD bracket.
Hard to remove top panel. To remove the top panel of the PhanteksEnthoo Pro Gaming Case for maintenance, you must first remove the bezel on the front of the case.
Plastic cases. The cases for the hard drive and other pieces on the PhanteksEnthoo Pro Gaming Case are made of brushed plastic.
Thermaltake Level 10 GT Gaming Case-Best Case for Cable Management - Link
Easily the most premium priced tower case on our list, the Thermaltake Level 10 GT Gaming Case takes the prize for the best case for cable management. It is also loaded with a lot of great features that make it well worth the extra cost. The hinged door on this case is a very attractive feature, as it enables you to open the side door easily whenever you need to perform maintenance on your system. The cable holders in the chassis are designed with advanced cable management in mind, keeping cords and cables out of the way to improve airflow and keep your system running cool.
Renowned for its highly efficient cable routing, the Thermaltake Level 10 GT Gaming Case is also equipped with 5 fans to cool your system-fans that are available in a variety of different colors that allow you to customize and personalize your system any way you see fit. The easy-to-remove dust filters on this unit make system maintenance a breeze, and the adjustable fan ambiance feature can be set to four different modes or profiles: the red profile, green mode, blue mode or a mixed color profile, creating a case that looks flashy while still providing the best in cooling and performance.
Pros
Great cable management. The cable holders inside the Thermaltake Level 10 GT Gaming Case allow for advanced cable management and improved airflow that will help keep the system nice and cool.
Hinged door. The hinged side door on this case is a wonderful time-saving feature when you need to perform any type of maintenance on the system.
Easy to remove bays. The bays on the Thermaltake Level 10 GT Gaming Case are easy to remove, particularly the hard drive bay.
Cons
Only allows for a small lower fan. The lower fan placement on the Thermaltake Level 10 GT Gaming Case only allows for an 80mm fan.
Noisy fans. The fans that comes standard with the Thermaltake Level 10 GT Gaming Case tend to be a bit noisy.
No wheels. Instead of wheels, this case comes with legs for support, which can sometimes make portability difficult.
Buying Guide: What's Important in a Computer Gaming Case?
Some serious gamers consider a high-quality gaming case one of the most important pieces of a competitive gamer's arsenal. The gaming case not only serves to keep all of the system pieces safe and protected from dust and other environmental elements, it can also keep your system cool, provide organization to your game room and even showcase your personality through LED lights, colored fans and other elements. But what exactly should you look for in a high-quality gaming case? This is the question we will answer in some detail in the Gaming Case Buying Guide below, which highlights the various factors to consider when purchasing one of these towers.
Size
Gaming or PC cases are available in a wide variety of sizes, from mini towers to mid-size towers to full-size cases. But which size is right for your gaming setup? First, we can eliminate the mini towers. These towers are not made with the gamer in the mind, as their small size not only does not provide enough room for all your system hardware items, but it also restricts airflow that can keep your system cool.
If you are a novice gamer-someone just starting out in the gaming world-we recommend you go with a Mid-size tower. These towers have ample space for a very basic gaming setup, and because fewer pieces of hardware are required for this type of setup, it will also generate enough airflow to keep your system cool.
Serious gamers, those with multiple hard drives, optical drives and graphics cards, will definitely want to purchase a Full-Size Gaming Case. These cases are very roomy, have multiple slots for fans and other hardware pieces, and allow for superior cable management, all of which will help keep your system running at tip-top performance.
Interior Setup of the Case
The interior setup of the case is a major factor when buying a gaming tower. The various slots, ports and bays in the interior of the case, along with their location, can be the difference between a messy, disorganized system that restricts airflow and one that looks and runs at peak performance. In addition to the slots, ports and bays, for things like the hard drives, optical drives for things like CD, DVD and Blu-Ray disks, PCIE cards, and fans, you should also look for a case that helps you manage the cables within the case. Keeping the cables neatly tucked away will not only provide you more room to perform maintenance on your gaming system, it will improve the airflow so as to keep your system running as cool as possible. Keep in mind that multiple hard drives and graphic cards can emit a lot of heat, and too much heat can literally fry your motherboard.
Front Panel Ports
Most of the PC towers or gaming cases of today now have ports on the front panel rather than on the back of the unit. This makes them very convenient and easy to access. Some of these ports include the microphone and headphone jacks, USB 2.0 ports and maybe even a few slots for card readers. Keep in mind that some newer cases now also include USB 3.0 ports-ports that are typically colored blue on the front case panel. If you have an older motherboard, you may not be able to connect to such headers, so ensure that you have a motherboard compatible with front panel USB 3.0 ports.
Cable Management
Although we mentioned cable management under the "Interior Setup" heading, this factor is important enough to warrant its own category. Although most cases will come with some type of cable management system, depending on the type you buy you may find that some manufacturers do not take this as seriously as others. Hence, it's important that you "look under the hood" and inspect for this feature. A good cable management system is one in which there is plenty of unused space to store cables, with cable holders or tie-offs prominently displayed in this area. Remember, good cable management means a more spacious machine, and a more spacious machine means a cooler-running system.
Cooling
Speaking of cooling, just how will your PC gaming case help to keep your motherboard, hard drive, optical drives, graphics cards and other hardware features cool and protected from heat damage? First, a cool case is one that is spacious enough to allow for good airflow, and one with an excellent cable management system. However, these two factors alone are not enough to keep an advanced gaming system cool and protected. For that, you will need interior fans. Most of the cases currently on the market will include at least a few fans that are already installed within the case: the intake fan on the front of the case, the exhaust fan on the rear of the case, etc. However, you should definitely look for extra ports where additional fans can be installed. For a very basic system, look for a case with at least 5 additional fan ports. If you are running a very sophisticated system, some of the very large PC towers are equipped with space for up to 9 or 10 fans, spaced strategically throughout the interior of the tower.
If you are a serious gamer, the chances are pretty good that you will spend a lot of time opening and closing your gaming case. Whether to perform simple maintenance, clean the dust filters or add additional cards, these cases will need to be accessed far more than your standard PC tower. Because of this, we recommend you select a gaming case that does not require a screwdriver, wrench (or hammer) to get into. Look for cases that have panels which can be easily be snapped off and put back together. Some of the higher end and more sophisticated gaming cases also have a hinged door on the side panel, a door which makes it extremely easy to access the various pieces of hardware and dust filters within the case.
Space for the Motherboard
Regardless of how sophisticated a given PC gaming case is; if it can't fit your particular motherboard it is essentially useless. Therefore, when shopping for these types of cases, check carefully that the one you are considering purchasing is built to fit your specific type and sized motherboard.
Exterior/Aesthetics
Last but not least is aesthetics-how your PC gaming case looks from the outside. When you have taken a lot of time to make the inside of your gaming case look and perform well, you may also want to showcase your work on the exterior of the case. Aesthetics are very important to some-some even say a good-looking case also helps them play better. So what can you do to adorn the exterior of your case? Plenty!
Some cases come with Plexiglas windows on the side panels that allow you to see the interior workings of your system. Some gamers use colored fans inside to make the outside of the machine look more vibrant and colorful, and some players have PC tower cases with customized lighting systems, allowing them to personalize their own lighting profile and play in darker conditions with ease. Gaming cases come in different colors with different patterns, designs and logos, and magnetic stickers (like Fat Boys) will allow you to change the exterior without damaging the case. Given all you can do to spruce up the exterior, go ahead and be creative and create a case that matches your personality and playing style.
top image credit: Hillary/Flickr